With the birth of the Prince or Princess of Cambridge – and future King or Queen of England, just days away, I thought it might be fun to take a peek through the Royal photo albums and look at some previous British monarchs – when they were babies!
This is the future Queen Victoria. She looks much different now than in the pictures we usually see of her. I wonder if it was difficult to get her to sit still for the portrait. :)
King Edward VII looking much younger than in his coronation pictures. He was the second child of Queen Victoria and Prince Albert and waited over 60 years to become king!
The future King George V looking dashing in a sailor suit. Unfortunately, I couldn't find a picture of George or Georgie as he was called, as a baby.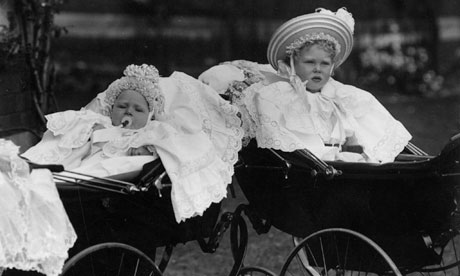 Two kings in one picture! King Edward VIII (far right) who abdicated in order to marry Wallis Simpson and his brother and successor, George VI, who grew up to pull the country through WWII and who is father to our current Queen.
Our current Queen, looking adorable and wearing lovely jewelry even at a young age!
The Queen looking down at a baby Prince Charles. Love the bassinet!
Princess Di and baby Will! Smiles all around!
And the beautiful Princess Kate, accompanied by Prince Harry and Prince William!
Just a few more days to wait, everyone!!